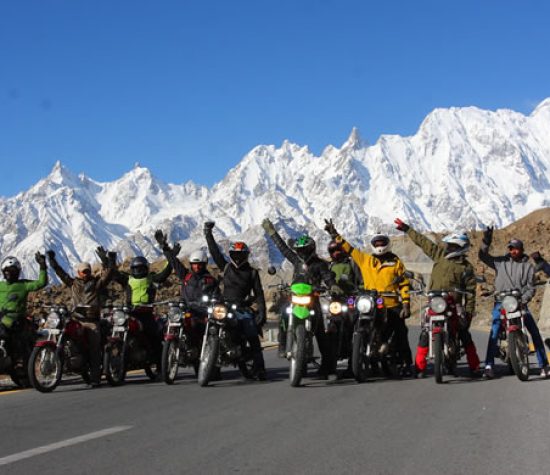 With Snow-covered peaks, sun-kissed mountain valleys, and shimmering coastline, Pakistan is an extraordinary natural playground fit for a modern-day Mountain Bike Holiday. Pakistan's rugged Peaks were made for mountain biking tours. The rocky drama of the Karakoram mountain is veined with twisting trails, and Deosai Plateau boasts some of its most scenic slopes, living up to its name as the "land of giants" between July and September when its terraces of wildflower fields bloom. If you have the legs of steel, then reaching the summit of Deosai Plateau (4,200 meters) is a tough but rewarding climb. Cycling here also reveals the Gilgit Baltistan's hidden villages, including the beautiful Astore village and Skardu Town. Deosai Plateau is great for mountain biking, a pedal to the top of the world's second-highest Plateau offers panoramas of Nanga Parbat and Many other famous Peaks.
For many years, Trango Adventure has been organizing Mountain Bike Holidays in Pakistan for cycling enthuse from around the world. We organise 09-12 days Mountain Bike Holiday in the Karakoram, Himalaya, and the Hindukusch mountain valleys. The duration and the itinerary of your Mountain bike tour can be customised according to your available time, fitness, and areas you would like to visit.
Islamabad is the nearest International Airport to start your epic Mountain bike Holiday in Pakistan. Our representative will meet and greet you at Islamabad Airport, then transfer you to the hotel for a good rest. After spending a night in Islamabad, today, you will head towards Naran Town for the night stay. You will Pass through some historical towns, Taxila, Hassan Abdal, Abbottabad, and mountain valleys to reach Naran. Naran is a small touristic town, tucked away in a small valley along the Naran river. The temperature here will be very mild compare to Islamabad, so, you will have a wonderful sleep.
After breakfast, you will continue your epic journey via Babusar Pass (4,230 meters) to Jaglot town. From here you will have your first cycling experience on the Karakoram mountain road. You will be biking for 3-4 Hours then use the Jeep to reach Astore Town. Astore is the capital of the Astore district of Gilgit Baltistan. You will have the choice to spend the night in a hotel in Astore or drive another one hour to the PTDC hotel at Rama Lake and wake up in the morning with a beautiful view of green meadows along the blue water lake. Nothing beats waking up with a hot cup of tea, and the reflection of Nanga Parbat mountain in the lake.
After breakfast, you will set off on your bike to Sheosar Lake via Chillum. Chillum is the last village of the Astore Valley before Deosai Plateau begins. A superb mountain bike experience along with the green meadows, and Astore river. Night stay will be in a camp at the crystal clear blue water lake with a spectacular view of Nanga Parbat.
Today, you will be cycling on the rough and stony road of Deosai Plain. Deosai means the land of Giants. Deosai Plateau's landscape also harbors diverse wildlife that is keen to protect. There are lots of elusive animals to be found across the Deosai Plateau, from the endangered Himalayan Brown Bear to the Himalayan snow leopards. A bit of luck, and you might see them along the road. You can meet the rangers of the Deosai National Park who spent all year round, protecting the wildlife of the Park. You will spend the night at Bara Pani camping site, and the next morning continue your Mountain Bike journey to Skardu.
Cycling to Skardu will be mainly pedalling downhill. You will have a rest and sightseeing day in Skardu before you take the spectacular Mountain View flight to Islamabad. Contingency day in Islamabad in case you miss the flight from Skardu. Skardu to Islamabad flight is subject to weather, so if the flight is canceled, you will drive on the Karakoram Highway to Naran for a night stay, then continue to Islamabad next morning. Your Mountain Bike Holiday will conclude in Islamabad, make sure to book your flight to your home country on the last day of the Itinerary.
We strongly believe that the vibrant and charming inhabitants, strong traditions, and the colorful mountain valley of Pakistan will Never fail to capture your heart. You will love nothing more than discovering Pakistan's unique architecture, testing your taste buds with our spicy foods, and exploring the dramatic landscape which begins in lush green Islamabad and ends in the snow-capped peaks at the roof of the world. A mountain bike holiday through the deep mountain valleys and high mountain towns and villages will be an experience to remember for the rest of your life.
DAY-1-       ARRIVAL DAY IN ISLAMABAD, PAKISTAN                                                DAY-2-       DRIVE TO NARAN (300 km) 7 HOURS                                                    DAY-3-       DRIVE & BIKE TO ASTORE (210 km) 7 HOURS                                      DAY-4-       BIKE TO SHEOSAR LAKE, DEOSAI (70 km) 4 HOURS                              DAY-5-       BIKE TO Bara Pani, DEOSAI (20 Km) 4 HOURS
DAY-6        BIKE TO SKARDU (35 Km) 4 HOURS                                                      DAY-7        SIGHTSEEING DAY, SKARDU                                                                    DAY-8        FLIGHT TO ISLAMABAD                                                                         DAY-9        CONTINGENCY DAY ISLAMABAD                                                        DAY-10     DEPARTURE DAY- FLY BACK HOME