Hushe, the road-end village of Baltistan opens some of the ideal trekking and mountaineering opportunities for deferent ages and tastes. Charakusa glacier is situated in area of magnificent mountains just few kilometers from Hushe. The K6 (7281 m), K7 (6934 m), Link Sar (7041m), Drifica (6650m), Kapura Peak (6545 m), Niza Peak, Namika (6325m) provide unique opportunity to climb rock and ice pinnacles in the heart of Karakorum. There are also many of the peaks are less than 6000 meters, which means no permit fee and no
liaison officer, and with just a three-day walk from the end of the road makes an affordable Karakorum expeditions. All the approach treks to these peaks starts from the Hushe village and passes through some best trekking routes in Karakorum. Base camps are located in stunning verdant site surrounded by high granite spires and enormous snow covered mountains. There are certain reasons to lure your imagination.
Day 01 : Arrival Islamabad
Day 02 : Fly to Skardu or Drive to Chilas
Day 03 : Skardu free day or Arrive Skardu – afternoon briefing at Ministry of Tourism Office, Skardu
Day 04 : Drive to Hushe Village. overnight camping
Day 05 : Trek to Saicho. Camping
Day 06: Trek to K-6, K-7 base camp. Camping
Day 07 – 26 : Climbing Days
Day 27 – 28 : Trek back to Hushe village. Camping
Day 29 : Drive to Skardu – Afternoon De-briefing at Ministry of Tourism Office, Skardu
Day 30 : Flight to Islamabad or drive to Besham
Day 31 : Free day or drive to Islamabad
Day 32 : Onward
| | |
| --- | --- |
| No. of Days: | 32 |
| Season: | June- September |
| Grade: | Demanding |
| Zone: | Permit Needed |
| Region: | Karakoram |
| Max Altitude: | 6500M |
OTHER PAPULAR ROCK CLIMBING
Chogholingsa Treks & Tours Pakistan (CTTP) is offering the following Rock Climbing programs & many more….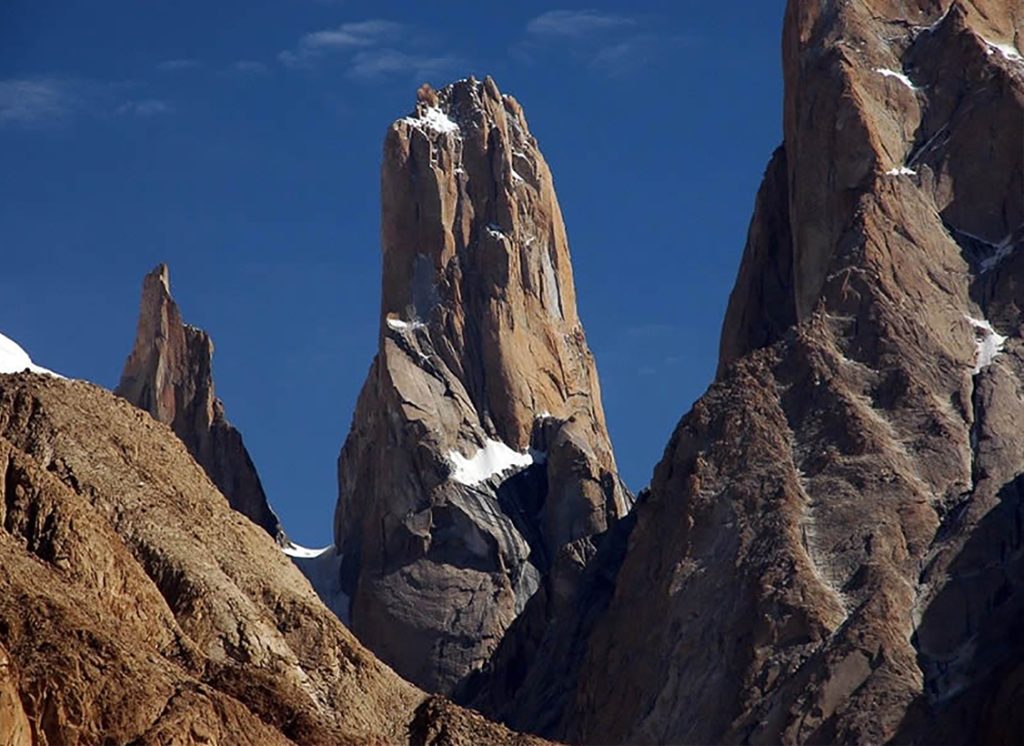 Trango Tower (6,245m) in the Baltoro region is one of the natural wonders in the Karakorum ..
The Bublimotin, Bubli Motin, Bublimating or Ladyfinger Peak , is an unmistakable stone tower in the Batura Muztagh, the westernmost subrange of the Karakoram go in Pakista
The Payu Peak (6610 m-21, 686 ft) is a mountain located in the central Karakorum (or Karakoram) in Pakistan, on the north side of the Baltoro glacier at the western end of the Baltoro Muztagh.