NANGMA VELLEY (AMIN BRAKK)
The Nangma valley houses some of the finest sheer rock towers standing shoulder to shoulder including the Amin Brack (5584m) and Great Tower (5800m), Braqzang, Sotulpa Peak (4800m), Drifika, (6000m) pyramid of snow and ice. We have customized expeditions in this valley to provide maximum opportunity of scaling peaks as much as possible just setting a base camp at the summer settlement encircled by numerous rock towers.The sheer minarets of Kharidas was first attempted by an Italian group in 1999 and then followed by our next American, Canadian and dominated by Spanish. Since then, it has been gaining a good recognition among the rock climbers.Besides the taste of pure rock climbing, this area will entertain you with its savage beauty of heaven and earth.
Day 1:      Arrival Islamabad. overnight hotel
Day 2:    Fly to Skardu / drive to Chilas. overnight hotel
Day 3:    Rest day or Arrive Skardu
Day 4:   Drive to Kanday. Camping
Day 5:  Trek to Karim Brangsa
Day 6-14: Rock Climbing (unclimbed peaks below 6500 m). Camp
Day 15:  Trek back from Camp site to Mingulu. Camping
Day 16:  Mingulu to Amin Brak, basecamp. Camping
Day 17-22:  Climbing activities. Camping
Day 23: Trek back to Kanday. Camping
Day 24:  Drive to Skardu. overnight hotel
Day 25: Flight to Islamabad /Drive to Chilas 
Day 26:  Free day/ Arrive to Islamabad
Day 27   Onward destination
 Route.                                          Islamabad-Skardu-Kandey-Bc-skardu-Islamabad
No. of Days:                               27 days
Season:                                          June to September
Grade:                                            Demanding
Zone:                                               Open
Region:                                          Karakoram
Max Altitude:                          6500M
OTHER PAPULAR ROCK CLIMBING
Chogholingsa Treks & Tours Pakistan (CTTP) is offering the following Rock Climbing programs & many more….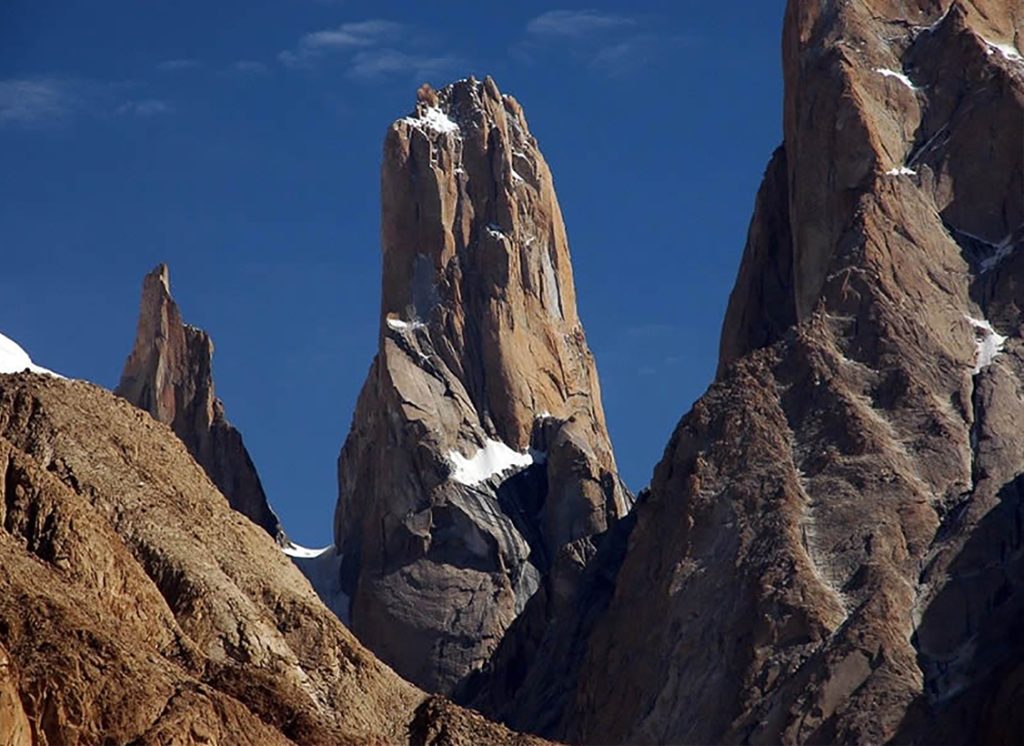 Trango Tower (6,245m) in the Baltoro region is one of the natural wonders in the Karakorum ..
The Bublimotin, Bubli Motin, Bublimating or Ladyfinger Peak , is an unmistakable stone tower in the Batura Muztagh, the westernmost subrange of the Karakoram go in Pakista
The Payu Peak (6610 m-21, 686 ft) is a mountain located in the central Karakorum (or Karakoram) in Pakistan, on the north side of the Baltoro glacier at the western end of the Baltoro Muztagh.