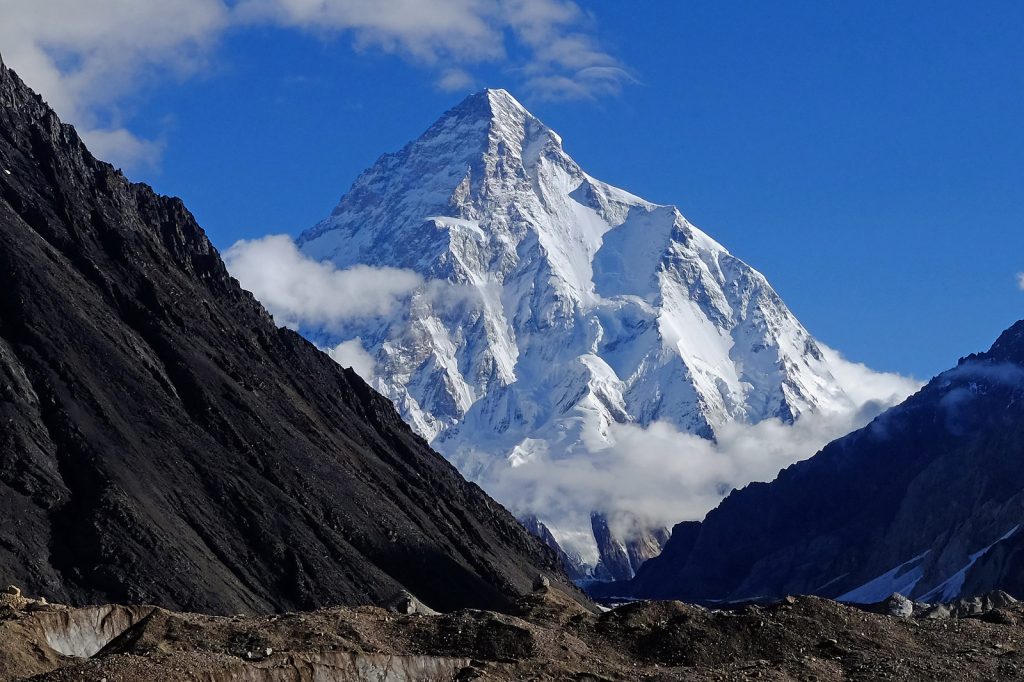 This trek ranked among the top ten classic hikes in the world, Concordia K-2 Base Camp Trek is a lifetime experience. The trek leads towards Concordia surrounded by a number of 8000 & 7000 M high peaks including K-2 (the king of mountains), Broad Peak, Gasherbrum IV, Baltoro Kangri, & Chogolisa etc. En-route glimpses of some other famous high mountains; Trango Tower, Masherbrum Peak, and Muztagh Tower besides many tributary glaciers of Baltoro, will mesmerize you in the wilderness. Many adventure enthusiasts believed that the beauty of the Karakoram Mountains is unique and beyond description. Starting from Islamabad; we head towards 
Skardu, the entry point of the mighty Karakorams. Driving by jeeps to Askole, a remote and last dwelling will be our first camping day. Jhula and Paiju will be next campsites. Paiju, green oasis under the shadows of Paiju Peak, here we have the first views of the immense Baltoro Glacier. Urdukas an impressive campsite with a panoramic view over the Baltoro and to the dramatic rock spires on the opposite side of the glacier. Goro II, at about 4300m, is on the glacier where ledges have been leveled out for the tents; there are views of Muztagh (7,270m), Masherbrum (7,800m) and Gasherbrum IV. We head to Concordia "the throne room of the mountain gods" as described by Galen Rowell, a famous climber and writer. Finally, we arrive at Concordia, the junction of Baltoro and Godwin Austin Glaciers with several other tributaries, serving as the base for the giants of Karakorams.
Day      Program
01        Upon arrival in at Islamabad Airport, transfer to hotel. Half day city tour
02        Drive to Chilas (via Besham -12 hours & via Babusar Pass -10 hours)
03        Drive to Skardu (9-10 hours)
04        Final preparations. Optional visit of Kharpochu Fort & Budha.
05        Drive to Jhula via Askoli by jeeps (9 hours)
06        Trek-01: Jhula-Paiju (6 hours)
07        Trek-02: Paiju-Khuburtse (5 hours)
08        Trek-03: Khuburtse-Urdukus (5 hours)
09        Trek-04: Urdukus-Goro-II (6 hours)
Day      Program   
10        Trek-05: Goro-II- Concordia (5 hours)
11        Trek-06: Rest day
12        Trek-07: Concordia- K-2 Base Camp and back to Concordia
13        Trek-08: Concordia – Goro I (7 hours)
14        Trek-09: Goro I (Biango)– Urdukas (5 hours)
15        Trek-10: Urdukas – Bardumal (7 hours)
16        Trek-11: Burdumal– Jhula-Skardu (11 hours)
17        Rest day in Skardu
18        Flight to Islamabad or drive to Chilas
19        Reserve day or drive to Islamabad
20        Home bound flight