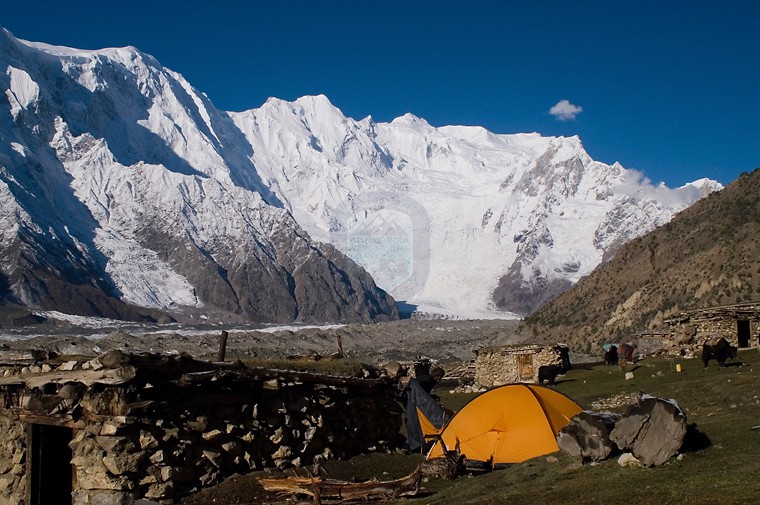 Batura I (7785m) is the highest mountain in the Batura Muztagh, the westernmost sub-range of the Karakoram. The Hunza Valley forms the eastern boundary of the range which extends west as far as the Hindu Kush and Hindu Raj. The range is relatively accessible as the Karakoram Highway runs up the Hunza Valley. Some of the highest peaks in the Karakoram outside of the Baltoro region are found here and the 56km long Batura Glacier is the fourth longest in the Karakoram.
An Anglo-German expedition was the first to attempt Batura I from the Batura Valley in 1959, when five climbers died high on the northern
slopes of the mountain. All subsequent attempts were from the south. The summit was first reached by Germans Hubert Bleicher and Herbert Oberhofer in 1976, climbing the south face from the Baltar Valley. An Austrian expedition summited in 1983, climbing from the Muchuhar Valley to join the south face route. The Muchuhar route was climbed by a Polish-German expedition in 1988. An international team made the first alpine-style ascent of Batura in 1996 by the Muchuhar route. Finally, three Japanese climbers died in an avalanche high on the Muchuhar route in 1999.
Day 01 Islamabad/Briefing
Day 02 Islamabad-Chilas
Day 03 Chilas-Passu Via Atta abad Lake.
Day 04-06   Trek to Base Camp
Day 07-40   Climbing Days
Day 41-41  Trek to Passu-Karimabad
Day 42 Karimabad-Besham
Day 43 Besham-Islamabad
Day 44 Free day
Day 45 Departure for home
Base Camp Altitude:                   3900m
 Location:                                              Batura Glacier
  Range:                                                   Karakoram
  Duration:                                           45 Days
  Best Time:                                        June – August