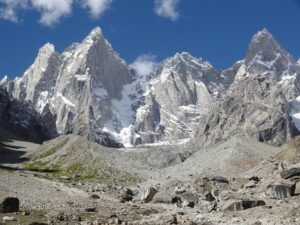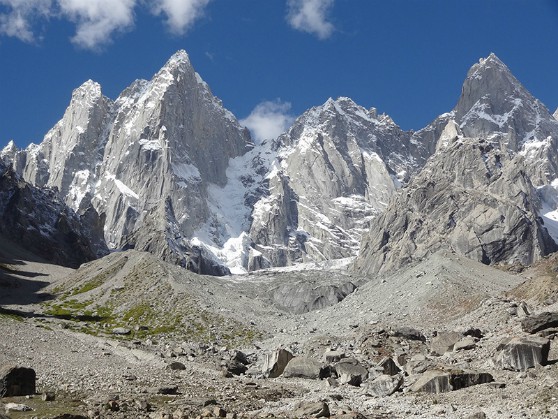 KONDUS VALLEY PEAKS: An extraordinary experience
"Villagers in the Saltoro and Kondus Valleys no longer see expeditions, these eastern valleys have some of the finest clean granite towers in Baltistan. The towers above these ascents remain for another generation of climbers." These are the words said by John Mock when the area was closed till 2000 due to Pak-India conflict over Siachan Glacier. Since its re-opening, the company has been successfully organizing groups for this area.
The area is clustered in numerous peaks such as 7742m Saltoro Kangri I , 7705m Saltoro Kangri II, 7380m Sherpi Kangri , 7100m Sherpi Kangri II , besides many other pinnacles. This area also extends easy access to other regions and peaks such as Link Sar 7041m, K-6 7281m, K-7 6934m, Chogolisa I 7668m, Chogolisa II 7654m.
This four weeks alpine style climbing program will take you to a number of below 6000m ice and rock pinnacles waiting to scale and thrusting for names. Most of them can be approached from the roadside.
ITINERARY
Day 1: Arrival Islamabad. overnight hotel
Day 2: Fly to Skardu / drive to Chilas. overnight hotel
Day 3: Rest day/ Arrive Skardu after noon, briefing at Ministry of Tourism Office Skardu
Day 4: Drive to Khorkondo. Camping
Day 5: Trek from Khorkondo to Basecamp
Day 6-10: Rock Climbing (climbed peaks below 6500 m). Camping
Day 11: Trek back to Khorkondo. Camping
Day 12: Drive to Kebri Glacier Camp – I
Day 13-22: Climbing activities. Camping
Day 23: Drive to Skardu – afternoon debriefing at Ministry of Tourism office Skardu,
Day 24: Fly to Islamabad/Drive to Chilas. overnight hotel
Day 25: Flight to Islamabad /Drive to Chilas
Day 26: Free day/ Arrive to Islamabad
Day 27: Onward destination
FACT SHEET
| | |
| --- | --- |
| No. of Days: | 40 |
| Season: | June- September |
| Grade: | Challenging |
| Zone: | Permit Needed |
| Region: | Karakoram |
| Max Altitude: | 6545M |