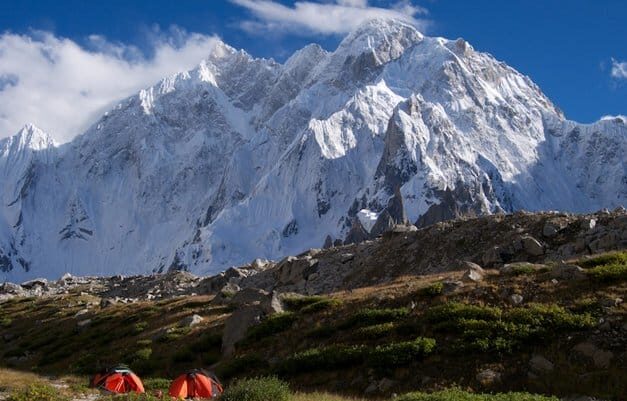 This valley lies at the head of the Hushe valley. K7 valley (Charakhusa valley) is a small valley that is surrounded by the jagged spire mountains just like K6 (7281m), K7 (6934m), Mingling Sar (7041m) Drifika (6650m), Kapura peak (6545m).
The most amazing alpine climbing in the area can be practice on the spot. Most of the peaks are less than 6500m high; consequently, numerous peaks at this altitude offer the best technical climbing conditions you will ever meet
Day 01: Islamabad/Rawalpindi:   Arrival at Islamabad International airport and transferred to comfortable centrally located hotel. Reminder of the day is free for you to relax and recovered from long flight to Pakistan. in the after noon, for those who desire there will be a tour of Pakistan's capital Islamabad and bustling bazaar of Rawalpindi. In the evening we have a welcome dinner where you will have the opportunity to meet your guide and other member of group. Overnight stay at hotel.
 Day 02 Rawalpindi – Chilas:  Drive 11-12 hrs on famous Karakorum Highway to Chilas. En route we will stop for photography, toilet break and lunch at Chatar or Besham. O/N stay in hotel.
 Day 03: Chilas – Skardu: (Drive & Hotel). After Break fast drive 9-10 hrs to Skardu, en route stop at "junction Point of World great Mountain Ranges" Himalaya, Karakorum & Hindukush and view point of Killer mountain "Nanga Parbat". O/N Stay in hotel.
 Day 04 Skardu – Hushe: Today we will embark our full day jeep drive 7-8 hrs through winding trial and beautiful villages to Hushe, the last inhabitant on our way to the K7 base camp.  O/N Stay in camp.
 Day 05: Hushe – Saitcho: 4 hours very easy trek lead us to Saicho. Saicho is center point to go to high heaven Gondogoro la and Masherbrum base camp etc. O/N stay in camp.
 Day 06: Saitcho – Spangser: Today we will turn right side and have trek of 4-5 hours to our camp side Spangser. From where you will embark K7 and link Sar just ahead of you. O/N stay in camp.
 Day 07: Spangser – K7 base camp: 4-5 hours trek to K7 base camp.
 Day 08: K7 base camp: Rest day and exploration at K7 base camp.
 aDy 09 & 10: K7 base camp – saitcho – Hushe: Return back Hushe. O/N in camp.
 Day 11: Hushe – Skardu: Drive by jeeps back to Skardu. O/N stay in the hotel.
 Day 12- 13: Commence return journey via the same route to Islamabad, upon arrival drive to concern department for debriefing
Day 14: rest day
Day 15: Fly back: Transfer to Islamabad international airport for the onward flight (End of services).
Daily Walking                   6-8 hours
Grade                                    Moderate to Difficult
Best time                            June – Early September
Maximum Altitude          4300m
Duration1                           5-17 Days