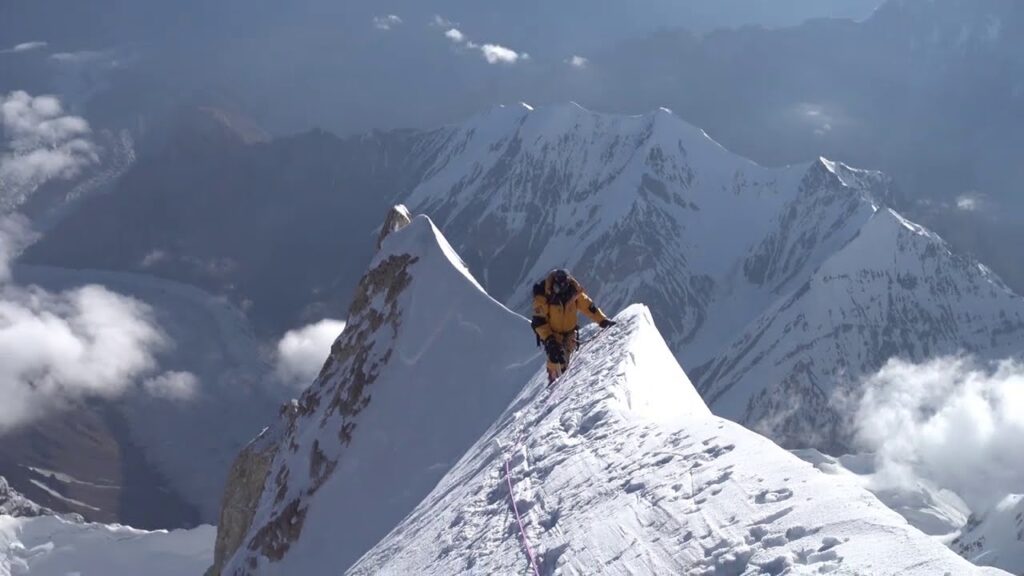 At the head of the Baltoro Glacier, at the end of one of the world's most famed mountain walks, lies the heaviest and most remote concentration of high peaks on the planet.Gasherbrum II is part of the greater Gasherbrum group of 5 peaks, 2 of which soar over 8000m, and is the world's 13th highest mountain. It is roundly held as one of the most straight-forward and accessible of the fourteen, and climbers on its normal route, if sufficiently resourced and prepared, enjoy reasonable summit rates inclement 
weather.In 2004 some 38 climbers from multiple nationalities reached her summit after a small weather window opened near the end of the season. The route of choice is the SW ridge. A mostly clearly defined spur that is relatively free of objective dangers. Nonetheless history shows more than a few climbers have perished on this route due to these causes. If you want to climb G2, you will need outstanding stamina, a fierce determination, and an ability to deal with 'expedition downtime' – boredom, apathy, lethargy, and cold lonely nights on the glacier.
 Day 1 Arrive Islamabad.                                                                                                              Day 3 Fly to Skardu (1 hr) or drive to Chilas.                                                                  Day 5 By jeeps to Askole (8-9 hrs) at 3000 meters.                                            Day 7 Trek to Paiyu, good views of Baltoro and trango group (7 hrs).      Day 9 To Khuburtze (5-8 hrs): 4000 m.                                                                         Day 11 Goro II: Glacier for 3-4 hrs to the camp site at 4500 meters        Day 13 6 hours trek to Gasherbrum camp.                                                                  Day 41-47 Return to Askole and drive to Skardu.                                                  Day 49 Day free at Islamabad or drive to Islamabad.                                
Day 2 Briefing at Ministry of Tourism. Meeting with LO                                    Day 4 Day free at Skardu or drive Chilas-Skardu (8-10 hrs).                      Day 6 Dumordu River to Jhola (8-9 hrs)                                                                      Day 8 Day free at Paiyu for acclimatization (3600m                                         Day 10 Urdukas: 4-5 hrs walk mostly along the crest of lateral moraine   Day 12 Concordia: 5-6 hours slightly easy walk, with spectacular views   Day 14 –40 Climb Gasherbrum.                                                                                              Day 48-Fly to Islamabad or drive to Chilas.                                                                   Day 50-Am de-briefing, pm fly home.
 Route:                                                               Islamabad-Skardu-Askoli-Concordia-Gasherbrum Base Camp
Duration of Expedition:                      53 days
Average Daily walk:                              5-7 hours
Climbing Difficulty:                               Hard
Trekking days (in & out):                    14
Days at base camp & above:             31
Hotel Nights:                                                  07