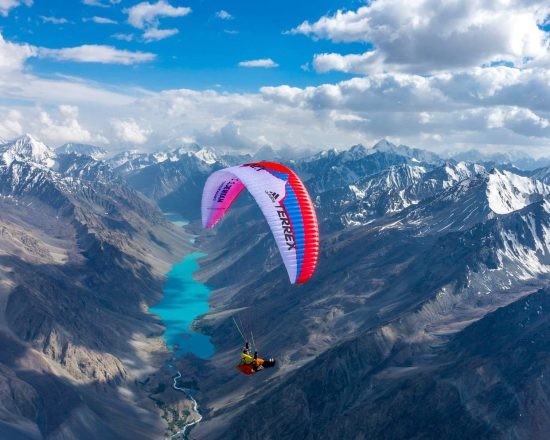 Hunza, Karakoram
Hunza Valley is also famous for paragliding. The paragliding altitude is around 2438 meters high. There are the most breathtaking sites in the Hunza, Karakoram. There are also other extensive ranges of mountains that are famous for paragliding. For example, the Himalayas and Hindukush Ranges provide opportunities for tourists to paraglide.
Paragliding in Hunza provides the chance for the visitors to view the valley scenes and view from the top and enjoy the chilly cold air.
Paragliding in Hunza is offered from February to December. It cost more than PKR. 5000 per person. The price may also vary depending on the tourist's guide. There are many other activities to perform in Hunza Valley.
Chitral
Paragliding in Chitral is now registered. It is located in KPK. In this region, this activity's main purpose is to encourage the youth of Pakistan for healthy and sport-type activities.
Koh e Hindukush is famous for paragliding. Many events regarding paragliding activities are organized in this area. Infect, at the inauguration occasion; the DC quoted that they would arrange and organize events to promote the paragliding.
Paragliding altitude in Chitral is around 4200m. A person will take off from the Zani pass and land in the Booni town area. The total trip cost PKR. 25000 per person.
Pir Chinasi, Muzaffarabad
Muzaffarabad is a beautiful region of Azad Kashmir. Its pir Chinasi point is popular for tourism in Pakistan. The best time for the tourists to visit the peer Chinasi is in summer as the weather changes and the cold breeze blow. Paragliding in Pir Chinasi provides immense pleasure to visitors by flying in the sky above the clouds.
In Pir Chinasi, Tandem free paragliding is done. For per person, it costs around PKR. 5,000 to 15,000. The usual flying duration of the ride is around 20 to 60 minutes. The price can vary on the base of duration and distance.