Rupal Peak is located on the southern side of the Rupal Valley which is more famously known for the Rupal Face of Nanga Parbat, the highest face in the world extending over four vertical kilometres from the floor. Rupal Peak is not too difficult to climb and is ideal for someone looking for an introduction to climbing in the Asian ranges. It mainly involves climbing on snow slopes with a few short sections of easy ice. It could be compared to the Group B Trekking Peaks in Nepal for difficulty yet receives a fraction of the climbers and requires no red tape to climb, unlike Nepal.
Rupal Peak is located in the far Western aspect of the Himalaya in Pakistan's Northern Areas. It lies just 9km from the Pakistani province of Azad Jammu & Kashmir to the South-West and the 42km from the Indian Province of Jammu & Kashmir. Despite its relatively sensitive position the mountain is easy to visit from Gilgit, the largest settlement in the Northern Area. Rupal Peak can first be viewed a short distance west of the village of Tarashing, which is the gateway to the Rupal Valley. From this perspective the mountain is dwarfed by Nanga Parbat but beyond the Bazhin Glacier, which flows from Nanga Parbat's Southern Face, Rupal Peak's impressive Northern face come in to view.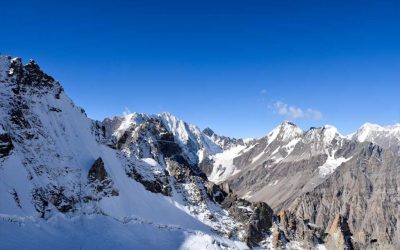 ITINERARY
Day -1- 

Islamabad:

Welcome to Islamabad! You will be greeted by a team of Hunza Adventure Tours at Islamabad International Airport after immigration and custom. Our team will escort you to your hotel. We will have ample time for sightseeing in colorful old bazaars of Rawalpindi and new markets of Islamabad and we will visit the modern Faisal Mosque in Islamabad. Overnight stay in Islamabad.
Day-2- 

Islamabad – Gilgit – Tarashing:

We rise early to be at the airport in time for our flight to Gilgit.
If the weather is good we will be treated to one of the finest views available in the world of aviation, as we thread our way up the largest congregation of mountains of Karakoram, Hindukush, Himalaya, and Indus River gorges, third longest in Asia and one of the deepest in the world.
To our east are Nanga Parbat (Killer Mountain) and countless peaks and glaciers.
It is sometimes possible to catch a glimpse of K2 in the distance before our dramatic landing at Gilgit. On arrival in Gilgit then drive to Tarashing arrival in Trashing. Overnight stay in Guest House.
Day-3-

Tarashing – Herligkofer Nanga Parbat South Face:

Today after breakfast our walk starts from Tarashing (2911m) village, climbing gradually to the Tarashing Glacier lateral moraine, near the north edge and crossing the glacier on a trail continuing up to the gentle valley through Rupal village. Rising gradually through Rupal valleys lush fields, the trail follows the valley's north side up a narrow green valley, through groves of willow, poplar, and juniper then you pass a small lake and round a corner of the Bazhin camp, flat, green meadows between the lateral moraine of the Bazhin Glacier and the mountain. Ahead towers the solid ice wall of the east face of Nanga Parbat.
This is a perfect campsite with clear spring water, a wood full of birds this spot is called Herrligkoffer base camp (3550m), a beautiful, although much-used meadows along the Bazhin Glacier's east margin.
The campsite is named after Dr. Karl M Herrligkoffer the leader of eight German expeditions to Nanga Parbat including the first successful expedition in 1953. A side trip of several hours up this ablation valley leads to a point on the moraine directly above the Bazhin Glacier and across from icefall coming from the summit. Overnight camping at Herrligkoffer Nanga Parbat base camp.
Day -4- 

Herligkofer Nanga Parbat South Face – Shaigiri:

After breakfast crosses the Bazhin Glacier over a trail in one hour along a donkey path the local shepherds come and go frequently, so you can follow their path or them but be careful there will be a lot of hidden crevasses and you can listen to the voice of flowing of underground water so you must walk slowly and don't stop at the Bazhin glacier.
From the top of the lateral moraine on the western side, you look down on a huge grassy field known as Latboh (3530m). Latboh is also known as Tupp Meadows because it is like a Tupp which must once have been the bed of a lake. Herds of horses, sheep, and goats graze in the center.
The summer villagers churn butter in goatskins and spin sheep wool while they sit and chat offering bread and buttermilk to visitors.

Further, two hour takes you around the end of a second moraine, with a lake on the top basically this Lake is less frequently visited and has no name and it exists at the foot of Nanga Parbat so that is why we call it a name Nanga Parbat Lake to another broad field, Latboi (meaning stony place) also called second base camp with a summer settlement on one side, from here the path climbs gently over some moraine then follows the north bank of the river through the woods to Shaigiri (meaning a white stone in Shina) 30 minutes away. This is a good campsite at about 3660 meters, with fresh water, firewood, and superb views of the south face of Nanga Parbat. Overnight camping at Shaigiri.
Day-5- 

Shaigiri – Rupal Peak base camp:

After breakfast trek towards Rupal Peak Base Camp, It will take almost 5-6 hrs to Rupal Base Camp (4235m), under the Rupal Peak. The afternoon is free for Exploration around Campsite. Overnight camping at Rupal Peak base camp.
Day – 06-07 

Climbing – Rupal Peak:

We will set up camps here for climbing activities.
Day-08 –

 Rupal Peak base camp – Latobah:

After breakfast trek down to Shaigiri camp and then further to Latobah Meadows. Overnight camping at Latobah.
Day -9-

 Latobah – Tarishing:

Trek back to Tarishing arrival in Tarishing. Overnight stay in Tarishing.
Day-10-

Tarishing – Naran:

After an early breakfast, we will start the drive from Tarishing to Naran Valley via Babusar Pass arrival in Naran Valley check-in at the hotel. Overnight stay in Naran Valley.
Day-11-

Naran – Islamabad:

In the morning after breakfast then we will drive to Islamabad upon arrival in Islamabad transfer to the hotel. Overnight stay in Islamabad.
Day- 12-

 Islamabad:

In the morning we will drop you at the airport for an onward flight back home.