Broad Peak Expedition(8051)
We have gained a reputation for success on 8000m peaks; much is to do with the strength of support we put in place. On Broad Peak and K2 we add considerable strength to our team by bringing in the support of our best Nepali Sherpa's to work alongside our team of Pakistani high altitude porters.
Perhaps you have no ambition to climb K2. Broad Peak is attainable by the less technically skilled mountaineer who wants to climb in the shadow of K2, which is directly opposite.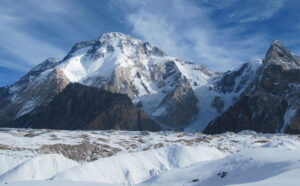 The first westerner who saw the peak was probably Lieutenant T.G. Montgomerie. He was surveying the mountains in the area and in 1856 he spotted some extraordinary peaks, which he gave temporary names. K for Karakoram + a number for the peak. K1, K2, K3 etc. Montgomerie later found out K1had a local name; Masherbrum. K2, still goes under that name, even if some have proposed to re-name it Qogori, a name used by some local people. K3, the third peak to be measured by Montgomerie didn't have a local name.
Itinerary
Day 1:  ARRIVAL DAY IN ISLAMABAD, PAKISTAN
Day 2: FLY TO SKARDU
Day 3: SIGHTSEEING & PREPARATION DAY, SKARDU
Day 4: DRIVE TO ASKOLI  7 HOURS
Day 5: TREK TO KORFONG  4 HOURS
Day 6:  TREK TO BARDUMAL  6 HOURS
Day 7: TREK TO PAJU 6 HOURS
Day 8: TREK TO KHOBURTSE 7 HOURS
Day 9: TREK TO URDUKAS 4HOURS
Day 10: FREE DAY AT  URDUKAS (4,130m)
Day 11: TREK TO GORO II  7 HOURS
Day 12: TREK TO CONCORDIA  5 HOURS
Day 13: TREK TO BROAD PEAK BASE CAMP (5,000m) 4 HOURS
Day 14-54: CLIMBING & ACCLIMATISING PERIOD
Day 55: TREK BACK TO KHOBURTSE  7 HOURS
Day 56: TREAK TO PAJU  5-6 HOURS
Day 57: TEAK TO JHOLA (3,170m) 7 HOURS
Day 58: TREAK TO ASKOLI (3050m) 3-4 HOURS
Day 59: DRIVE TO SKARDU , 7 HOURS
Day 60: FLAY BACK TO ISLAMABAD
Day 61: FREE DAY AT ISLAMABAD
Day 62: FLAY BACK TO SWEET HOME
Sorry, the comment form is closed at this time.